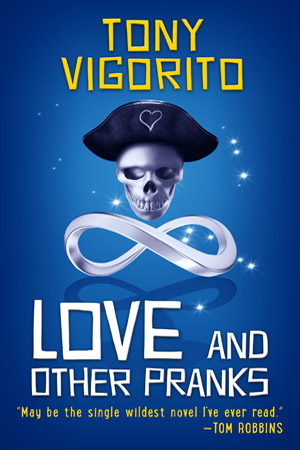 The title of my third novel, Love and Other Pranks, was borne of a conversation with a good friend sometime in 2007 in an A-frame in Austin, Texas. As I had not yet completed my second novel, and because I'd recently realized that all three of my books should take place within the same fictional universe, I included an Easter egg reference to Love and Other Pranks in a paragraph on page 288 of Nine Kinds of Naked that first linked the three novels together:

Their love is for another story, a story of love and other pranks."Where do you think you're going?" Diablo demanded, and a passing woman with impossibly long harvest brown hair streaked sexy with a few strands of silver heard his rhetorical inquiry as if it were intended for her. She stopped long enough for Diablo to catch a smirk from the Argue Naked emblazoned across the front of her T-shirt, hesitantly touched the side of her nose, and changed her direction, whispering "Walk away" to herself. An hour later, she happened to run into her estranged boyfriend, over whom she'd wept because of their separation just that morning. Both of them discovered a transcendental sexuality that night, but their love is for another story, a story of love and other pranks.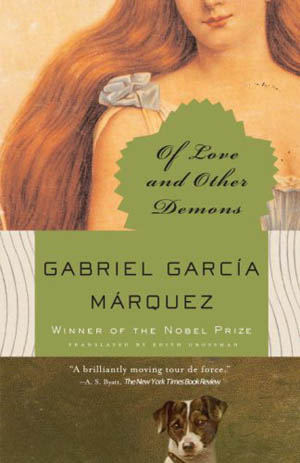 The thing is, though, after I'd begun to research Love and Other Pranks in earnest, I discovered that Gabriel Garcia Marquez had first published a novel called Del Amor y Otros Demonios, i.e., Of Love and Other Demons, in 1994. I read it immediately, impressed and reassured that it had nothing but three words in its title in common with my current project. But as I do not write full-time, the seasons pulsed inexorable, and then in 2010 a movie starring Jake Gyllenhall and Anne Hathaway was released, entitled Love and Other Drugs. Puzzled at the apparently growing frequency of love and other synonyms, I went to see the film, and as it was half a comedy having to do with the release of Viagra and half a drama having to do with early-onset Parkinson's disease, I reassured myself once again that it had nothing to do with my current project.
Still, I was vaguely concerned that this title that had by then woven itself deeply into the texture of my book was growing hackneyed. I considered changing the title, but I could not bring myself to do so, as this rather felt like deciding to change your child's name when they're eight years old. Besides, Love and Other Pranks perfectly captures the theme of the story, so I let it be and eventually finished the book. During the interminable, two-year-long publishing process, however, a moment of idle curiosity prompted me to do a Google search for any additional Love and Other… titles. Two hours later, and after scouring not only Google but also the Amazon and Wikipedia databases, I had compiled a probably-not-exhaustive list of at least 48 titles – songs, albums, books of poetry, tomes of cultural studies, novels, films, and lots and lots of romance and young adult novels.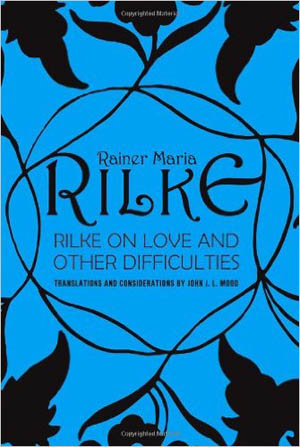 To be sure, most people have never even remotely heard of these titles, but I was nonetheless disconcerted at the trend. And actually, the same year that Gabriel Garcia Marquez published Of Love and Other Demons, an anthology of Rainer Maria Rilke's poetry was published entitled On Love and Other Difficulties. Synchronicity? Perhaps, but neither of those giants was the first to turn that particular phrase either. In 1990, there was a memoir published entitled Love and Other Infectious Diseases. So far, it seemed, love was a demon, a drug, a difficulty, and a disease.
Digging deeper, I discovered that Spyro Gyra's 18th album, released in 1995, was called Love and Other Obsessions. The trend might have ended there, until an 11-year hiatus ended in 2006 with the release of six new titles that year, as if the phrase had been holding its breath. The most prominent among them was a novel entitled Love and Other Impossible Pursuits, which was eventually made into a film called The Other Woman, starring Natalie Portman. Besides this, there was also an album, a novel, a cultural studies tome, and two films called, respectively, Love and Other Planets, …Near-Death Experiences, …Technologies, …Dilemmas, and …Disasters. 2007 added another film called Love and Other Four-Letter Words to this synonymy, and the next two years saw five more projects, Love and Other Crimes, …Natural Disasters, …Tragedies, …Catastrophes, and …Uses for Duct Tape. All of this, remember, is before the 2010 romantic comedy-drama, Love and Other Drugs, and really, we're just getting started.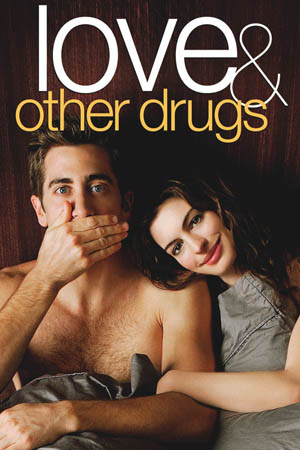 2010 also gave us an album and a novel titled, respectively, Love and Other Struggles and Love and Other Secrets, and then things really took off once the romance and young adult authors caught wind of this turn of phrase. Here I will cease my annual catalogue, and suffice it to say that as of the last time I checked, our culture has been enriched by Love and Other Errors, …Anxieties, …Theories, …Things, …Things I'm Bad At, …Lemons, …Mysteries, …Troubles, …Distractions, …Surprises, …Subjects, …Sins, …Scandals, …Small Wars, …Profanities, …Fiascos, …Fables, …Foreign Words, …Games, …Wicked Games, …Unknown Variables, …B-Sides, …Perishable Items, …Acts of Courage, …Lies Worth Telling, and …Cosmic Nonsense. Also, and as if to underline the point, there is another book called Love and a Million Other Things.
I wondered: Is there any word that we can attach to the end of the phrase "love and other…" that does not inspire some meaning or another? Love and other digressions? I think I see what that means. Love and other cups of coffee? Invigorating, sure, and it can make you nervous. Love and other surveillance cameras? Someone was in a controlling relationship. Love and other crack pipes? Addicted to love, and maybe they got burned. Okay, let's try to get obscure with this: Love and other bottle caps? Evocative, a heart overflowing with effervescent happiness. Love and other sunglasses? Sunshine of your love, baby, pretty cool. Love and other hatreds? I get the irony. Love and other baseballs? Right, right, the home run, of course. Love and other windshield wipers? Clarifies your path, naturally. Love and other plastic lids? Keeps you fresh and contained, or maybe it's just a worthless piece of garbage. Love and other business cards? A cynical take on the marriage market, perhaps. Love and other zippers? An allusion to S&M, obviously.
Love is the supreme synonym, the ultimate reality that all other words can never more than merely facet.
So what are we looking at here? Love, as it turns out, love is so multifaceted, so all-encompassing, that it can be paired with virtually anything and share something in common with it. Ancient Sanskrit had over eighty words for love, but we have but one, one love, and love is the supreme synonym, the ultimate reality that all other words can never more than merely facet, and this is perhaps what The Beatles meant when they sang All You Need Is Love.
P.S. For posterity's sake, it is worth noting that the first instance of Love and Other… came not from the 1990 memoir entitled Love and Other Infectious Diseases. Rather—as far as I have been able to discover (and please feel free to correct me)—the first instance of this phrase was an album released in 1977 titled Love and Other Bruises, and recorded by the agonizingly soft-rock Australian pop duo who called themselves Air Supply. So there you have it.
Read the book
Read an interview