---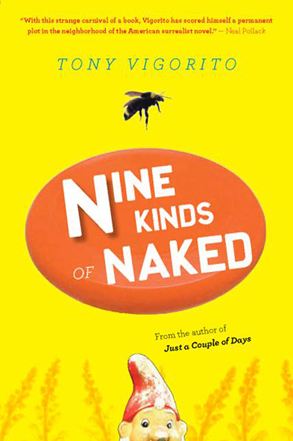 Synchronicity on the sultry soothe of your day!
A prisoner spins a playing card into a somersault, stirring a wind that becomes a tornado that takes off the roof of a church in nearby Normal, Illinois. Elizabeth Wildhack is born in that church and someday she will meet that prisoner, a man named Diablo, on the streets of New Orleans--where a hurricane-like Great White Spot hovers off the coast. But how is it all interconnected? And what does it have to do with a time-traveling serf and a secret society whose motto is "Walk away"?


"Chaos theory says that a tiny, almost imperceptible event can have large, even catastrophic coincidences: a butterfly flapping its wings in North America leads to a hurricane on another continent, for example. In this fictional take on chaos theory, several offbeat characters are linked by a single event that expands through time, sweeping them up in it and changing their lives. A traveler works a nifty trick with a playing card, and a tornado strikes a small Illinois town; a woman is born during the tornado and later meets the man who set it in motion; 1,200 years earlier, a man who is supposed to be stoned to death discovers he has an uncanny knack for surviving; and, back in the present day, another man speaks only in the present tense. Comparisons of this novel to the works of Tom Robbins are both obvious and appropriate: the story meanders around in an entertaining manner, never getting too serious about itself; the characters are splendidly loopy, close to caricature but never quite reaching it, and the situations in which they find themselves are comic, dramatic, and everything in between." --Booklist
"Linguistic gymnastics abound... Vigorito demonstrates once again that he's a wild stylist... startlingly original... an entertaining anarchist..." --The Chicago Sun-Times
"A neopsychedelic satire... channeling the spirited humor of Douglas Adams' The Hitchhiker's Guide to the Galaxy series..., Vigorito's is a crisp, sardonic voice." --Texas Monthly
"Part quirky love story, part philosophical manifesto, and part metaphysical mystery, Nine Kinds of Naked is almost more musical dance than written word. Tony Vigorito's book... is right at home with the works of Tom Robbins and Christopher Moore." --Sacramento Book Review
"With this strange carnival of a book, Vigorito has scored himself a permanent plot in the neighborhood of the American surrealist novel. The breadth of his imagination and the sheer exuberance of his writing cannot be ignored." --Neal Pollack, author of The Neal Pollack Anthology of American Literature and Never Mind The Pollacks
"Nine Kinds of Naked offers ten distinct varieties of literary satisfaction, including metaphysical highjinks, libidinous lowjinks, hermeneutic mind games, Gordian plot twists, cognitive estrangement, linguistic surrealism, stylistic pyrotechnics, laugh-out-loud jokes, scrappy extrapolations, and the synergistic sum of the above."
--James Morrow, author of The Last Witchfinder and The Philosopher's Apprentice
"Fans of Vigorito's... 2007 cult hit Just a Couple of Days will have a ball with this hyperactive, zany novel." --Publisher's Weekly
"Another whimsical tale of time, space, coincidence, and cause and effect. The author displays most of the linguistic acrobatics and playful rumination that made his debut a cult classic... In the tradition of Douglas Adams and Tom Robbins, much of the book is given over to philosophical musings about the connection among all things." --Kirkus Reviews
"Tony Vigorito has grown a cult following of thousands for one reason—his stuff is fun to read... It's innocent, whimsical, sometimes silly even, but filled with the freshness and the freewheeling independence that made his reputation... This book is the "work" of one of the least pretentious and most enjoyable to read novelists at play in America today..." --Kris Saknussemm, author of Zanesville
"Nine Kinds of Naked is a wildly spinning tornado of beautiful fresh air. It'll blow its quixotic winds up your nose and make even the most cynical want to tear off their clothes and dance naked in the streets." --Chris Genoa, author of Foop!
"A rambunctious romp through time and synchronicity, and a hilarious present-day parable on our brinksmanship existence." --Reality Sandwich
"An amazing book about everything. You can tell the author had a great deal of fun." --Ana Matronic of The Scissor Sisters plugs Just a Couple of Days in an interview about her favorite things in Marie Claire. Click the attachment below to read the full interview.
"Zombies and vampires and evil viruses, and nary a divine awakening in sight..." --Mark Morford plugs Just a Couple of Days in his column in The San Francisco Gate.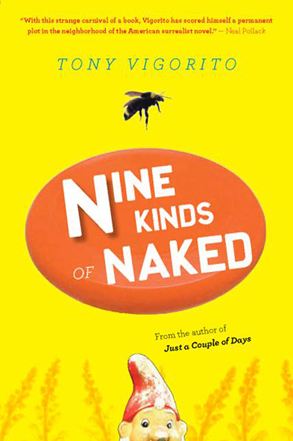 Chapter 19
In 1936, during the depths of the Great Depression, forty young women arrived at the Cooper Pants Factory near Gainesville, Florida, sat down at their sewing machines, and set about stitching hems and seams, another dreary day in the land of opportunity. Shortly after they began their busywork, and as if this debasement of their imagination were not tragic enough, a tornado came along and bumped into the factory. Thirty-nine of the forty women ran panicked and screaming to the stairwell; a Mrs. Boyd Shaw remained at her station. She had inadvertently sewn her own dress into the seam she was stitching, and was unable to beat the hasty retreat. As she struggled to free herself, the tornado ripped the roof from the building, ultimately causing it to collapse, but not before it tore Mrs. Boyd Shaw clean out of her clothes and tossed her a block away, stark naked and bruised, but otherwise fine. All thirty-nine of her coworkers died in the ensuing inferno that consumed the factory.
There are hundreds of substantiated oddities such as this surrounding tornadoes. A tornado once opened a barn door, pulled a wagon out, turned it around, wheeled it back inside, and closed the door. A phonograph recording of the song Stormy Weather was once found wedged into a utility pole after a tornado had swept through the area. A butter churn once dropped out of the sky and landed on a cow's head, half an hour after a tornado had hit twenty miles away. Chickens are routinely stripped of their feathers, and the feathers are sometimes found speared into planks of wood. In 1974, a farmer reclaimed a mirror, a carton of eggs, and a box of Christmas ornaments – all undamaged – from the otherwise total wreckage of his house. A tornado in 1996 even had the audacity to hit a drive-in movie theatre in Canada while it was screening the movie Twister.