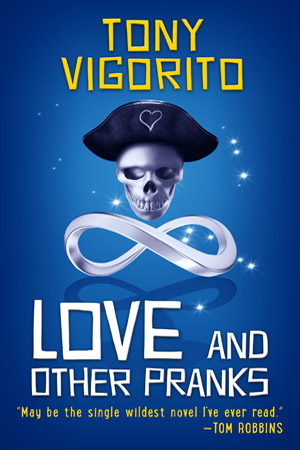 This excerpt of Love and Other Pranks begins at Chapter 3. Enjoy!
Return to beginning

3


Though he obviously possessed the moxie somewhere within himself, Merlin was rarely so Casanova with women as he had been with Lila that Halloween, and was so that evening only because a couple of recently reunited matchmakers just in from New Orleans and costumed as an angel and a devil had earlier stepped in front of him, addressed him as Adam, handed him a bumper sticker upon which was printed the phrase ARGUE NAKED, and placed a little white pill impressed with a heart into his palm.

"What's this?" Merlin inquired as he peered at the presumed tab of Ecstasy.