About Tony
---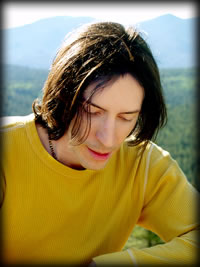 What event in your life influenced you the most?
This is the second most influential event in my life:
On a perfect, early April morning some time ago, as I was preparing to ride my bike, I thought it might be nice to ride without my helmet, to feel the wind in my hair, to whiz unencumbered through the spring atmosphere and all that. I paused at my door for tangible seconds, considering, before deciding I ought to wear my helmet. Minutes later I collided head first into a car at an intersection.
I was going downhill, pedaling as fast as I could go, and the car was traveling perpendicular to me, also speeding. I do not remember seeing the car. I do not remember the collision. I only remember a distant thud. My 25 mile-an-hour body dented the shit out of his fender and hood, so much so that he almost couldn't drive away. My bike, on the other hand, didn't have a scratch on it. It never touched the car. I must have braked hard and sent my body sailing over the handlebars. I had quite a few scratches.
I was greatly traumatized, but except for my shoulder, which still bothers me, I recovered remarkably fast. I attribute this to the yoga I'd been doing just before getting on my bike. Three weeks later I was dancing at a music festival, albeit with beef jerky kneecaps.
What bothers me is that if I hadn't hesitated at my door, waffling over whether or not to wear my helmet, I'd have been through that intersection by the time the car came through. Of course, I am aware that other variables may have come into play between my door and that intersection to conspire the collision anyway. And yet, I can't help but feel that there was more to this than a bicycle safety lesson. For me, the lesson was never to hesitate.
And always wear your bicycle helmet.