Miscellany
---
To receive a FREE Argue Naked bumper sticker (identical to the graphic at the right), we ask for 75 cents to offset the cost of shipping ($1.25 for international shipping). Click on the PayPal button below to submit your request.
U.S. requests
International requests
By popular demand, we have made Blip and Sophia's ARGUE NAKED t-shirts available through this site. Click on the images to choose from eight different styles.
For those who have not yet read Just a Couple of Days, ARGUE NAKED is from the passage excerpted below, pages 40-42.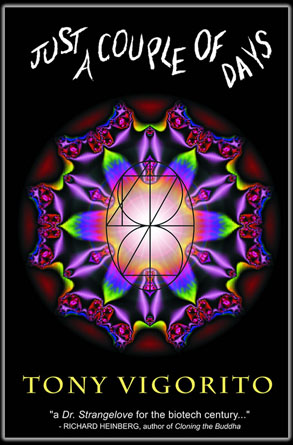 What exists beyond language, beyond illusion? This is the thematic quest of Just a Couple of Days. The original cover art from the Bast Books edition represents this effort to discover what is meant by the ineffable.
The symbol floating in the center of the mandala is called the Cosmic Egg. All Arabic numerals and alphabetical letters are contained within its ellipse, demonstrating that everything that can be numbered or named is contained within one form at the beginning. Originating as a piece of mystical iconography, it represents the Logos, the realm of all experience and knowledge.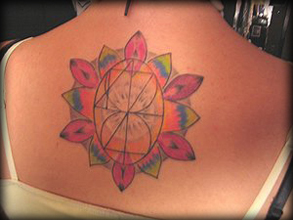 Thanks to Anna for sending us a picture of her beautiful tattoo!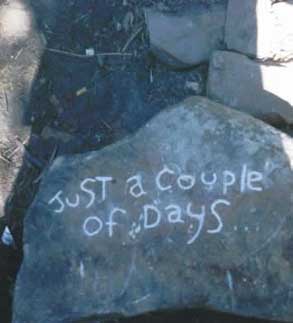 The graffiti that inspired the title of Just a Couple of Days first appeared on both sides of an overpass just outside of Athens, Ohio on U.S. Route 33. It remained there untouched for almost two years, and meant something different every time someone saw it. As far as anyone can tell, Just a Couple of Days means whatever you want it to mean. It is a reflection of your current consciousness, and its message depends entirely on your mood, your state of mind, and your recent thoughts.
But of course, there is more to the phrase than this. Just a Couple of Days refers to nothing, it is true, but it has nevertheless inspired at least one tale of unfathomable merriment in which the author attempts to answer that most vexing of all questions, "Just a Couple of Days till what?" Tony is forever indebted to the anonymous ninja vandal who inspired the title of his story.
Thanks to Modest Muse and friends for taking the time to carve Just a Couple of Days in stone.
* * *
The following is reprinted from The Post, Ohio University's student newspaper.